[ad_1]

This story appears in an entire magazine dedicated to one of the most impactful draft classes ever. Get your copy here.
Thirteen All-Star appearances. Eight-time All-NBA. Three-time NBA champion. One Finals MVP. One scoring title. Dwyane Wade arrived to the NBA on June 26, 2003 with little fanfare that night, relatively speaking, of course.
With LeBron James stepping into The Theater at Madison Square Garden (where the draft was held annually for 10 consecutive years, starting in 2001) touted as the greatest HS prospect ever and Carmelo Anthony having led Syracuse to a national title as a freshman, Wade's buzz after an underrated collegiate career at Marquette was somewhere in their shadows at the time. By the end of his rookie season, though, he had proven himself as a tier-one hooper and a certified bucket-getter. And from then on, he rose to worldwide superstardom and is now a multifaceted entrepreneur (including an ownership stake in the Utah Jazz) and showman. 
We hopped on a Zoom call with Wade in early June to take a trip down memory lane, discussing his career, the impact the '03 draft class had on and off the court as well as his most recent endeavors.    
SLAM: Your rookie season in Miami, you guys were able to make a run into the second round of the playoffs while you quickly became a household name after coming into the draft with not as much love. Looking back on it, what was it like, to experience that type of early—and maybe unexpected—success?   
WADE: We sucked when I first got in. The year before I got drafted, Caron Butler could've won Rookie of the Year. I think he came in second or third behind Amar'e [Stoudemire] and Yao [Ming]. They had won 25 games the year before Udonis [Haslem] and I came in. And we wasn't good to start the year off. We started off 0-7. We were terrible. And eventually we just kept working. We kept believing in each other. We kept getting closer as a unit and started to figure it out. Lamar Odom was on that team. He was the star player on that team. Skip to My Lou [Rafer Alston] was the point guard on that team. Eddie Jones was a vet. Brian Grant. We had some guys on there that were good guys but we wasn't that good. And eventually we worked it to a point where we started becoming dominant at home. We started really beating people at home and we learned how to win a little bit on the road. And so, we end up making it to the playoffs and end up getting a fourth seed because of how everything shaped out at the last minute. Shout out to Jalen Rose for making a shot in Milwaukee that gave us the fourth seed because they beat the Bucks on, like, the last night.
And I just remember going in there and was like, Yo, this is what I've always heard about. This is what I always wanted to get to! The playoffs is where you make your name. This is where it starts—I build. So, I just remember going into it, like, Yo, I'm about to give it everything I got! The first playoff series was against Baron Davis. I had to go against BD. I'm talking about a real good BD. In the prime BD. We beat them in seven, and then we went against Indiana, who at that time, the Pacers could've been champions. Everyone thought the Pacers was going to be champions if everything don't go down the way it went with the brawl in Detroit. They had a team that can go. So, to take them six games, to average 20 points a game in that series, for me, I was like, Oh, young fella rise! I felt coming out of that series, like, Oh, I'm about to—I'm gonna be a good NBA player. I've seen it. I know. Now it's just about putting the work in.
SLAM: Do you remember any specific game or moment that you can pinpoint as the exact time when you realized that you were in the midst of taking off that rookie season? 
WADE: I think what switched my mindset was after All-Star [Weekend]. I remember going to All-Star and that was the first time when I felt like the third wheel. When we were there and it was all about Melo and it was all about Bron. And no hate [or] nothing to them, because they deserved all of it, but I was sitting there and I was having a pretty good year at that point in Miami—I was exciting, I was doing some cool stuff—but nobody [was speaking about me], people were like, Hey, can you spell your name? I'm like, Still?! Like, I've been doing this since I was in kindergarten, spelling my name. I just remember coming back from that All-Star and I just clicked into, like, another person. I remember telling Lamar Odom, Yo, you're going to see a different me this second half of the season. And so I started building that confidence. I started having games where I put up a couple of 30-point games back-to-back-to-back. I started doing all these things, it was just about trying to do it consistently. Once I was able to consistently do it, I knew I was going to be a pretty good player. But once I performed in the playoff level and against the teams and the talent—Ron Artest was guarding me in that second round; I remember one time I blew by Ron Artest and he was hitting me, he was doing all this, and I was able to take the hits. I was like, Oh. Oh yeah. You here! My confidence just kept going.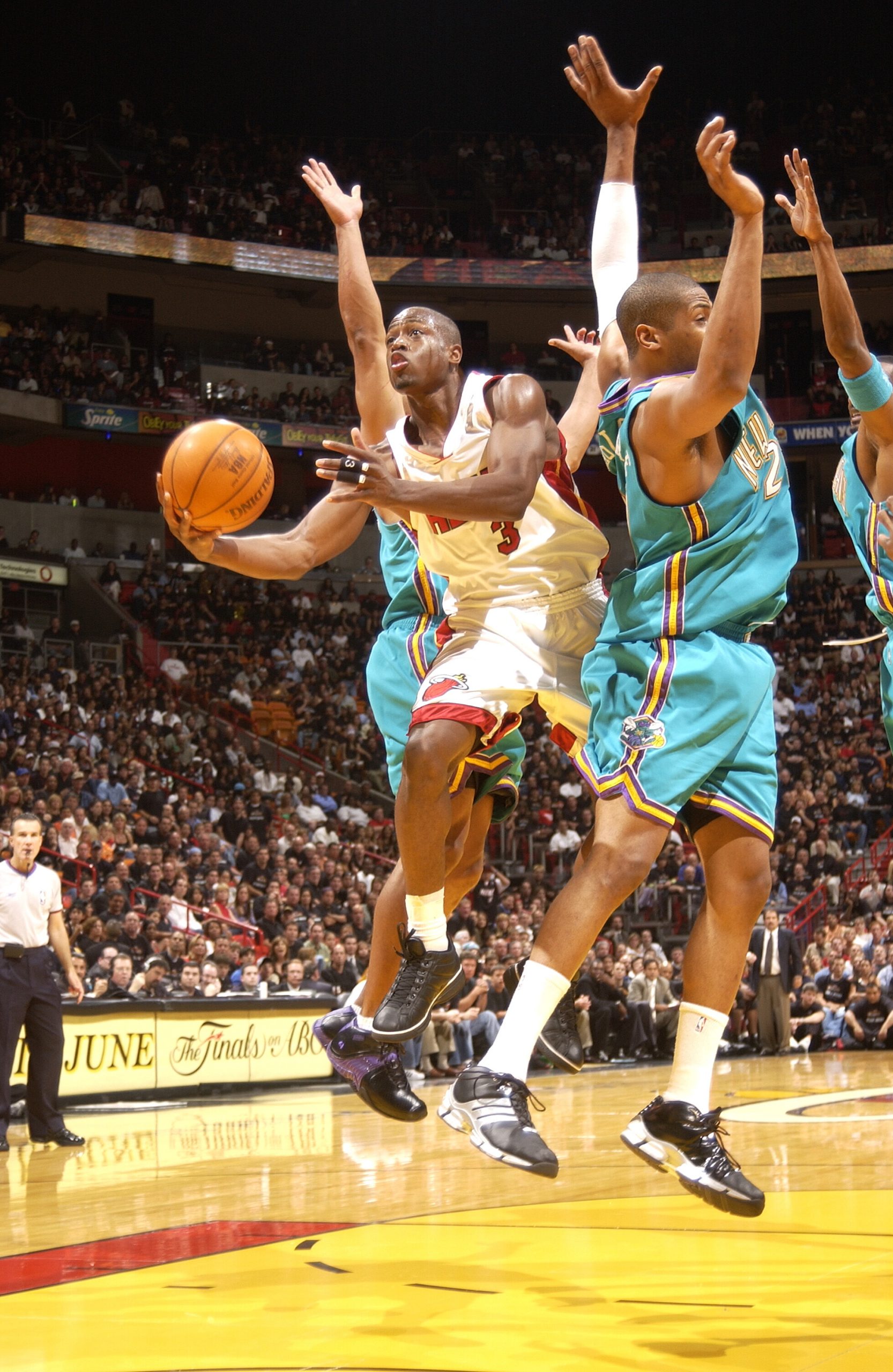 SLAM: By year three, you had already captured your first NBA championship. At the time, LeBron had just made the playoffs for the first time, Bosh had not even been to the playoffs at all, and Carmelo hadn't been able to get out of the first round yet. What was it like looking around at your '03 peers and seeing how far you'd been able to go in comparison to their first three years?  
 WADE: It was just like, Let me try to beat these guys to it. I had the team that they didn't have at that point. I had the team that was built to win a championship. Shout out to the Miami Heat and Pat Riley for making that big move to bring in Shaq. And then eventually Antoine Walker, Gary Payton, J Will, James Posey. We had a squad. Those guys didn't have that kind of team yet. Bron didn't have that. Melo didn't have that. And CB definitely didn't have it at the time in Toronto. So, for me, I was like, Let me get to this now! Before these guys come in and take it. Let me get me a ring first. So, I just had the opportunity before those guys, and I took advantage of that opportunity in 2006. It was a total team effort.
But as growing into the leader of that team, I had to do more than I knew I could do to help us achieve that. And shout out to Shaq, and UD, and Posey, and GP, and all these guys who played their role to a T that allowed me to be able to perform at that level—the defensive role, the leadership role, Shaq getting double-teamed, all these kind of things helped me go to a different level. I was just happy I got a chance to get that first championship before LeBron got in here and started hogging all the Finals appearances [laughs].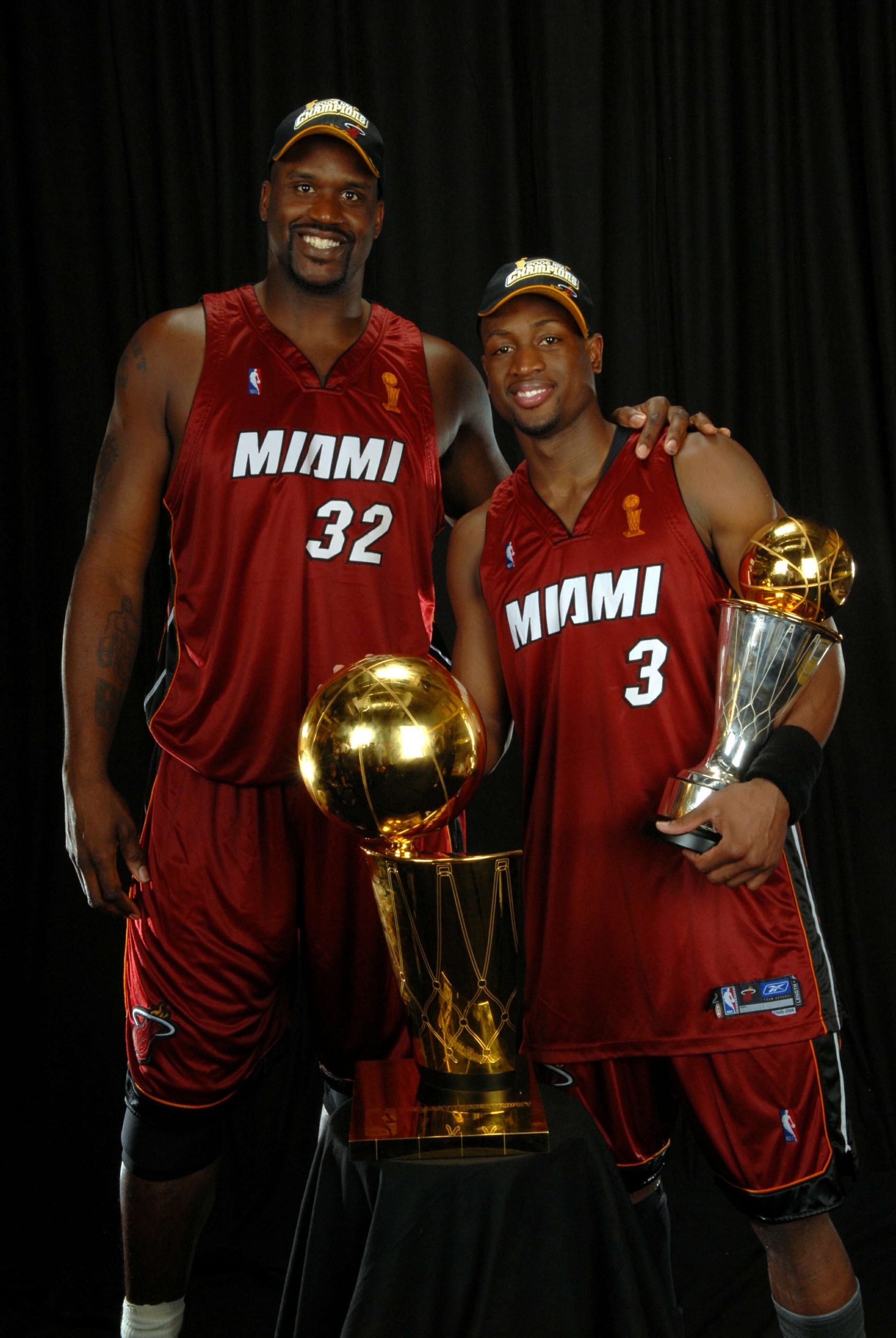 SLAM: A few years later, the three biggest names in the '03 draft class decide to team up when LeBron and CB joined you in Miami. People coined it the start of "superteams" but in reality, it changed forever the way teams were put together and the way players went about it. How do you look back at that monumental time a decade later?
WADE: We knew it in that moment. We didn't know what it was going to be or what it was going to look like, but we knew that we were shifting the culture. And it's not even the superteams. Everyone wants to make this about superteams. It's only the fact that players started controlling the destiny of putting these teams together because ownership was putting together these teams for years. And then we just shifted the power a little bit. Once again, a lot of credit goes to LeBron, and Leon Rose and my agent [and Chris' agent] Henry Thomas for understanding this vision, and putting us in a situation where we all were set up to control our own destiny. We signed that three-year deal and that put us in a position to control our own destiny. From there, we knew we were shifting the culture. We just didn't know what was going to happen—we didn't know that Kevin Durant was going to go to Golden State later. We didn't know these things were going to happen, but we did know that, Hey, we're doing something special. And we knew in 10, 20 years we'd be able to look back and be like, Yo, that was a key moment, a pivotal moment. So, it's great to see. It's great to see players have power, because they should. They are the talent. They're the ones. I'm on the other side now. And being on the other side [ownership], I still want players to have the power. I want them to understand what it means to have that kind of power, and use it for what it is that they want to get because organizations, we're going to get out of the players what we want to get out of them. So you want the players to get out of this game what they deserve as well. So I'm all for it.
SLAM: Not everyone understood the vision at the time, though. There was a lot of criticism that came from it back then. What was it like adjusting to the newfound hate?    
WADE: We didn't know the media, and the fan base, the hate was going to come the way it did. We definitely didn't prepare for that. We knew it wasn't going to be the most popular decision but didn't know it was going to be the most unpopular decision. We didn't really prepare for that. And we couldn't. So, we had to go through all of that in real-time. We all went from being kind of loved—Chris ain't ruffle no feathers in Toronto, he was quiet. I didn't ruffle no feathers in Miami, I was quiet. And LeBron was LeBron and loved. And, so, we get all together, and everyone is like, Hate [it]! And you're like, Wait a minute. Where is this coming from? But we still had a job to do…For us, I look back and I say, I'm so glad that three Black young men were able to sit down and make that decision. And by making that decision, shifted the culture.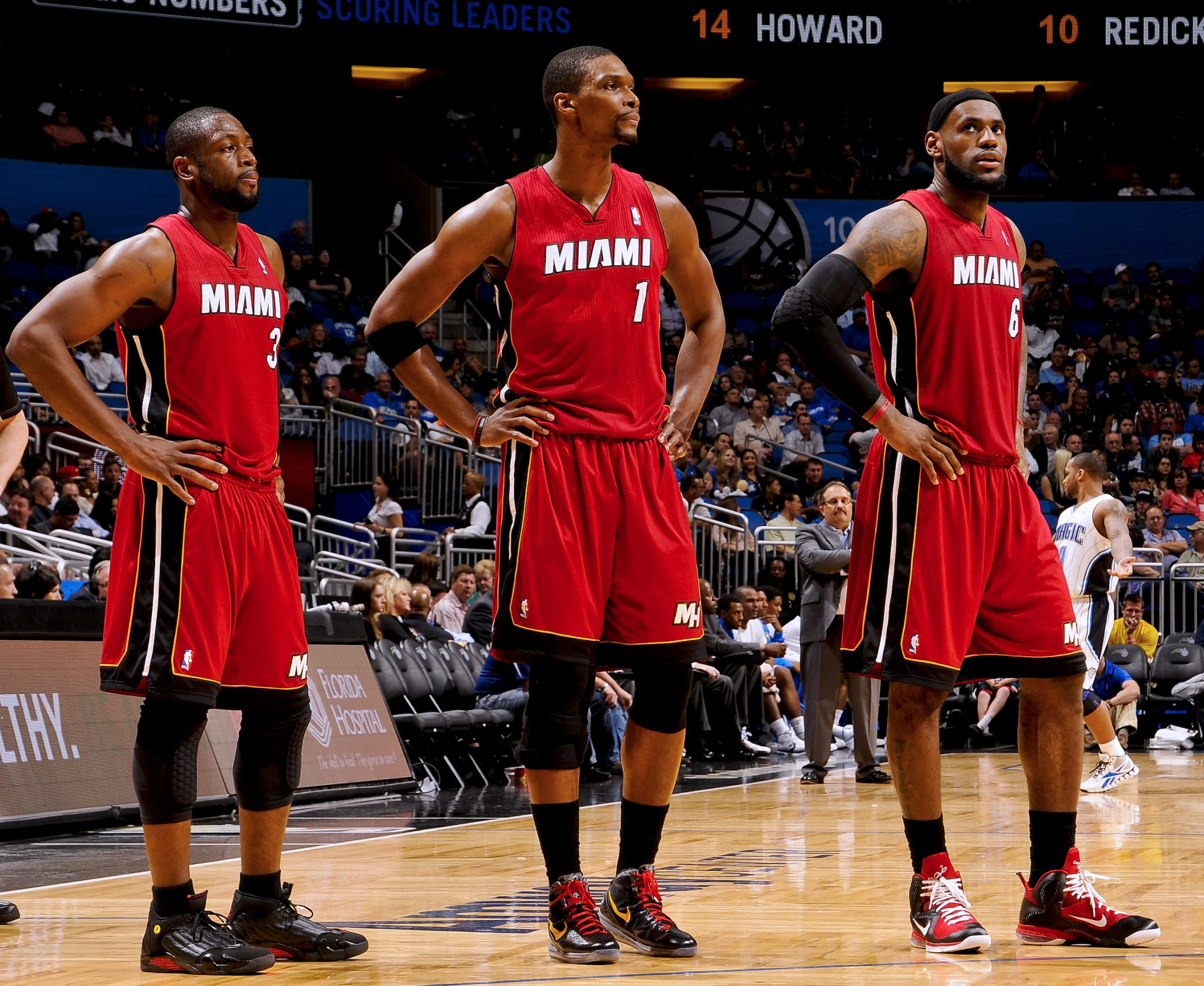 SLAM: There was that two-year period where you ended up playing for the Chicago Bulls and the Cleveland Cavaliers. How do you remember that small but very different chapter of your life?
WADE: I remember it very well. It's a part of it. You can't just think about all the good and not think about anything else. And not saying that it wasn't good because it was something I wanted to do once everything broke down in Miami the way it did. I never wanted to leave Miami. That was never my goal. But once we broke down in negotiations, I decided to do something for myself. And to go back home and play, that will always be one of my favorite moments. When I got called out and it said, Six-four guard, from Chicago, Illinois, Dwyane Wade—I will never forget that. That moment was so powerful for me. I grew up watching this team. I grew up wanting to be an NBA player because of this team. And now I'm wearing this jersey and I'm here. And also, too, that was the last time the Bulls went in to the playoffs. Shout out to us once again for doing our job and getting to the playoffs. [Rajon] Rondo don't get that injury, we're having a different conversation right now.
That year, it was fun. I had a great time. I built a great relationship with my brother Jimmy [Butler]. I got a chance to see my mom and [she] got a chance to see me play up close and personal every home game. I got a chance to be there the last year of my agent's life in Chicago. If I was in Miami, I would have never got the opportunity to do that. So, there was a lot of great things that came out of me being there that last year. And then it led me to Cleveland.
Once Jimmy got traded and I got bought out, I decided to give it one last hurrah to try to go compete for a championship, and I wanted to do it with my brother who I competed for four other championships with. We thought we had a good chance. We know Golden State was unbelievable and it was going to be hard to beat them regardless. We thought we put together a good team to be able to do that, [but] management thought different, and so they broke us up before we had an opportunity to go compete for a championship together. But I enjoyed my time away from Miami because I got a chance to experience the NBA in a way—I only knew one team, I only knew one way, so I got a chance to get out there and kind of experience the NBA in a different way. I use those experiences til this day.
SLAM: You've mentioned your agent Henry Thomas a couple of times. He was the only agent you ever had for those first 15 years of your career before he passed away in 2018. How did his passing impact the tail end of your career?
WADE: That was hard. It's still hard. Even right now, I get emotional just thinking about it. I remember not wanting to play basketball no more. At that time, things in Cleveland was going the way they were going—we weren't riding that high wave no more. I was dealing with a loss, a potential loss, throughout that time, that I never experienced before. So, it was hard for me.
Me and Hank, we connected so much from the game of basketball. Our love of the game of basketball was our connection. And once I knew he wasn't going to be around no more, I lost a piece of me from the connection to basketball. I really wanted that to be my last season. I really didn't want to play another year after I got traded back to Miami. Shout out once again to the Cleveland Cavaliers' management for putting me in a good place, knowing everything I was dealing with. When they decided to make the change with the team, they asked me did I want to go back to Miami. They had worked out a trade—if I accepted, I could go back. And it was the perfect thing for me at the time. I needed to be back with family. I got a chance to go back and it was great. It was great for me to get a chance to get back and bring some excitement and some life back to that community, [and] be home with my family. But basketball wasn't the same for me no more. Even that last year, I played and did my one last dance, and it was incredible—to see the response and just the ovations and the love that I got—but the game was never the same. When Kobe retired, the game wasn't the same for me anymore. When my agent passed away, the game wasn't the same anymore.
SLAM: You have your own wine company. You're now part of the Utah Jazz's ownership group. You founded a multicultural marketing agency with CAA. And now you are the TV host of a primetime gameshow, The Cube on TBS. How did that last one find itself in front of you?
WADE: I dreamed of going to the NBA. I prayed many nights that hopefully I got that opportunity. But everything else since then has just been nothing but whipped cream and cherries and sprinkles. Once I retired, one thing I did do out here in L.A., I went to every studio, every streaming service, I went and sat down with everybody about, like, Hey, I've started my own production company. I really want to get into the storytelling space. I really want to get into the scripted, non-scripted space. And an opportunity came to me about The Cube. The Cube was successful in the UK for 11, going on 12 years. And they wanted to adapt the game show over here…We wanted to bring something that people can do stuff for communities with. And, so, I was like, Cool, I'm an EP! This would be my first thing, that I will be Executive Producer on for [my production company] 59th & Prairie. I'm excited! And they were like, So, yeah, we also want you to host it. And I'm like, Alright, stop. I don't want to host [laughs]. And [eventually] I just decided to do it because the one thing is when I can control something and I'm fearful of it, I have to do it. I can't sleep good at night if I know that I have the ability to control this but I'm afraid and I won't do it. I was afraid of doing it because I've never done it before. And I just said, You know what? Let me give this a try. I put the work in and hopefully you guys get a chance to follow us.
Hopefully we're on for 10 years. Hopefully we have as much success as The Cube has in the UK—whether I'm the host or not. Whether I'm good or not. Hopefully the show can continue to keep going and we can continue to change the lives of people's families—and have some fun and some joy while doing it.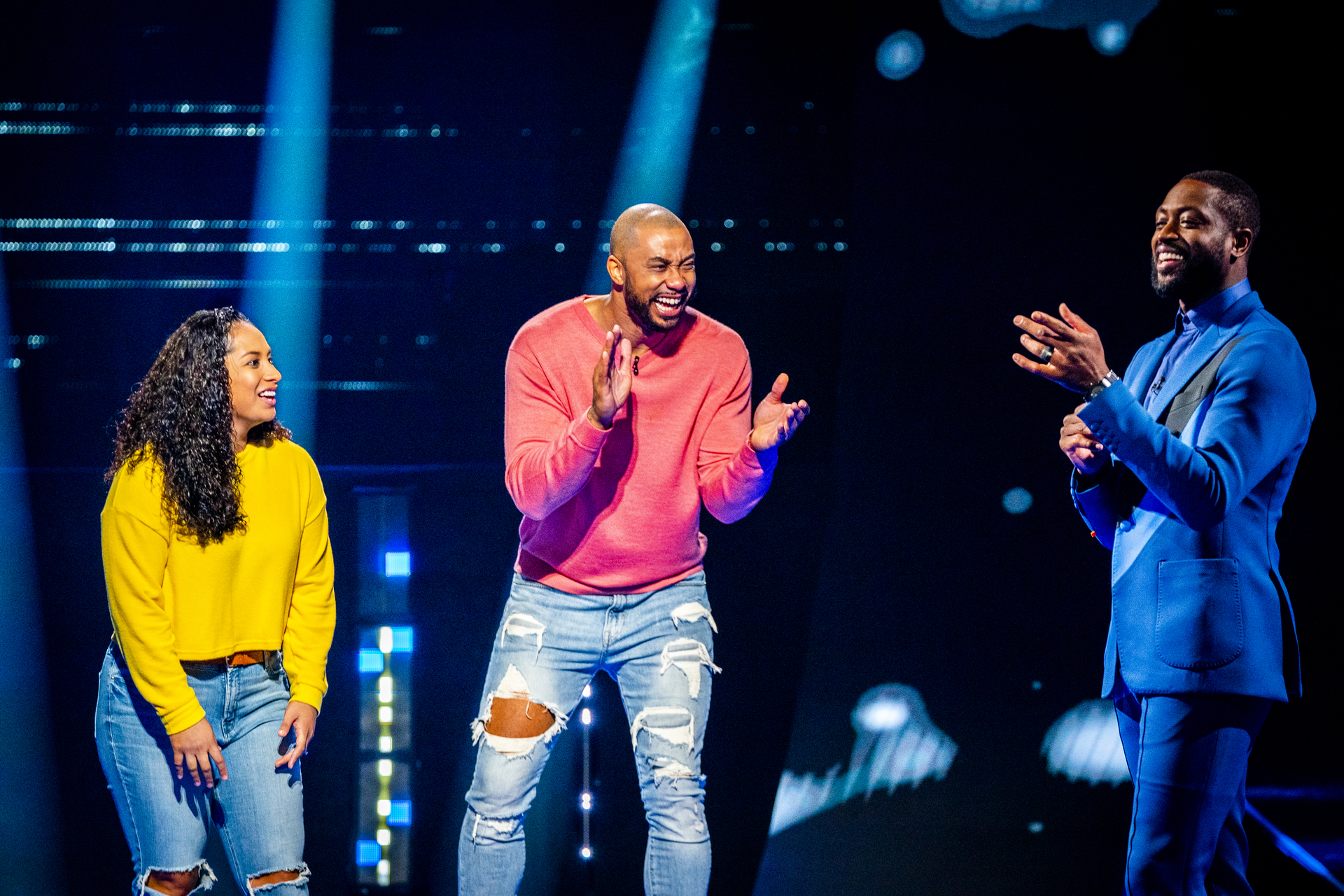 SLAM: You mentioned putting the work in—did that involve taking classes or extra training sessions?
WADE: I started putting the work in—I had my own vocal and speech coach. I started putting the work in on myself because there was a lot of things I needed to work on, a lot of things I needed to clear up. I'm from Chicago [and] my family is from Jackson, Mississippi—I had this real southern accent. Real thick. Where I come from in Chicago, we don't follow through with our words. We may say a word and we say bet—we don't say best. We don't finish, we don't follow through. So, I was like, If I'm gonna get on TV, I gotta work on myself. I did that first and then this opportunity came, and I was already months into that, then they gave me a hosting coach to teach me how to host…I spent weeks in my house, in the basement, going over what these games could be. Going over how to talk to the camera, going over the rules.
I put in a lot of work and a lot of hours to try to hopefully bring something to television that people can enjoy.
---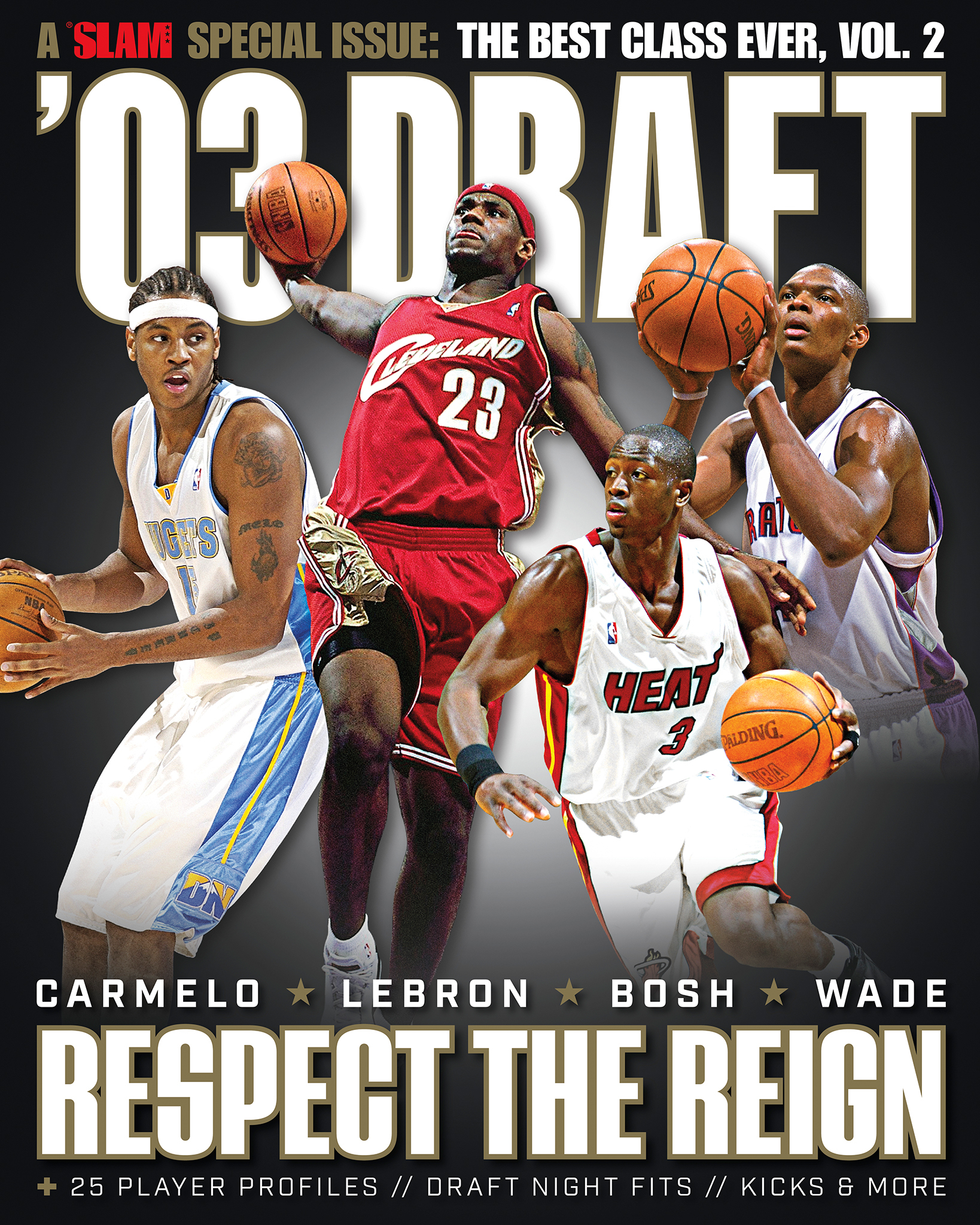 Photos via Getty Images.
! function(f, b, e, v, n, t, s)
if (f.fbq) return;
n = f.fbq = function()
n.callMethod ?
n.callMethod.apply(n, arguments) : n.queue.push(arguments)
;
if (!f._fbq) f._fbq = n;
n.push = n;
n.loaded = !0;
n.version = '2.0';
n.queue = [];
t = b.createElement(e);
t.async = !0;
t.src = v;
s = b.getElementsByTagName(e)[0];
s.parentNode.insertBefore(t, s)
(window, document, 'script',
'https://connect.facebook.net/en_US/fbevents.js');
fbq('init', '166515104100547');
fbq('track', 'PageView');
[ad_2]

#Dwyane #Wade #Reflects #NBA #Career #Shifting #Culture #Miami