[ad_1]

Whether you're heading out to a big event, you've got a special night out planned or you're just looking to add to your formal wear collection, a cut out dress is one of the best ways to switch things up and really make an impression the next time you step out on the town. There comes a time when a same-same silhouette just doesn't cut it, and so comes in the cut out! Get geometric and creative with the way that you show up to your next big event with these styling tips.
Also, Read Become More Stylish
How to find the right dress
Fit
First things first, fit. You could find the dress of your dreams, but if it doesn't fit, then it doesn't work. Because cut out styles are typically more revealing, look for lengths and cuts that make you feel your very best. A flowing maxi or midi style is great if you want a little more coverage whilst you play with the negative spaces created by your cut out look. You'll also find plenty of mini options for summer styling that truly stands out from the crowd. Choose what makes you feel most comfortable and confident, that's what is going to make the real difference on your night or day out.
Material
Materials make all the difference, so pay attention here ladies. If you're looking for a smooth, mesmerising take on the cut out trend, look for a satin fabric in a rich, sultry tone. Think red, sapphire and inky black. To play up the light and playful nature of the cut out look, you can also veer towards crisp cottons and Ponte materials in floral or pastel prints. For a more romantic, daytime event cut out dress, think dreamy hues; lilac, blush and daisy white. Looking for something for the cooler months? Keep an eye out for rib knit and velvet fabrics for a cosy cut out look that doesn't compromise on style, even if the weather is a little bitter.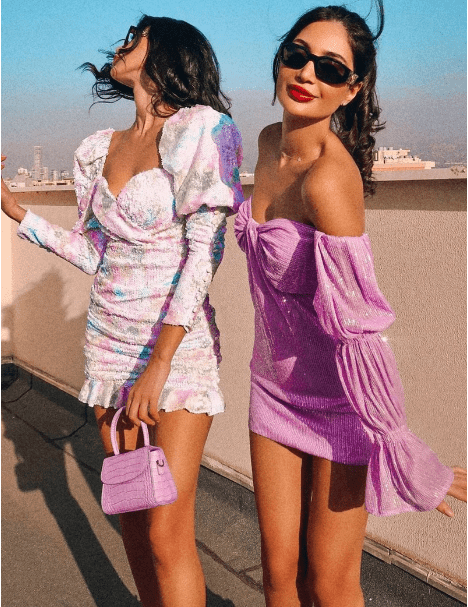 Source: Alamour The Label
Cut out placements
Curious just what cut out style is going to work best for you? There are so many different options out there, some are going to showcase your shoulders, some your waist, others your back. The key is to look for a style that celebrates the unique beauty of your silhouette. Taking the time to really hunt for the right dress for you and you alone is going to make all the difference down the line. So get ready to do your research to land your dream cut out dress.
Also Read [Unlined Bras]
Styling tips for your newest wardrobe addition
One of the very best things about cut out pieces is that the shape really does most of the talking, so you can stick to more minimal accessories to really let that cut out dress shine. Opt for delicate, subtle chain jewellery, sweep your hair over to one side for a soft geometric contrast and reach for a pair of perfect strappy sandal shoes to keep the focus on your evening dress. You can also pull your hair back and get a little more playful with bolder resin or chunky jewellery for a statement look that's sure to turn heads.
Introducing cut out silhouettes is a great way to reinvent both your day to day basics and your more formal, going out pieces. Leaning into the cut out style opens you up to so many different styling opportunities. Let's invest in more staples with intrigue – who said capsule wardrobes had to be boring? Let's continue to play with shapes and styles, putting together unique and creative looks that make us feel amazing time and time again.
[ad_2]

#Style #Cut #Dress